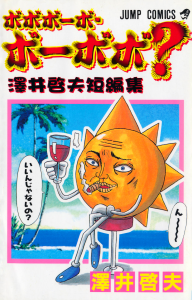 Hey there, everyone, here's the first chapter of an anthology volume known as "Bobobo-bo-bobobo? – Sawai Yoshio Tanpenshuu", in English, "Tanpenshuu" refers to an anthology of short stories. This is a new joint project between us and You're Welcome Scans.
The volume consists of eight chapters, four of which are directly based on the original Bobobo series, but are still new chapters:
Stinky Mountain Action Story
Bobobo-bo Bo-bobo: Akamaru Version
Bobobo-bo Bo-bobo

Chapter One – Bo-bobo and Beauty
Chapter Two – Bo-bobo and Captain Battleship
Chapter Three – Bo-bobo and Don Patch
Chapter Four – Bo-bobo and Gasser

Invincibleman
Fierce Battle!! Rock-Paper-Scissors Island
Anyway, grab the first of those chapters below.
Bobobo-bo-bobobo? Sawai Yoshio Short Story Anthology – Stinky Mountain Action Story
Download | Read Online